← Back to portfolio
Spots written, recorded, and produced.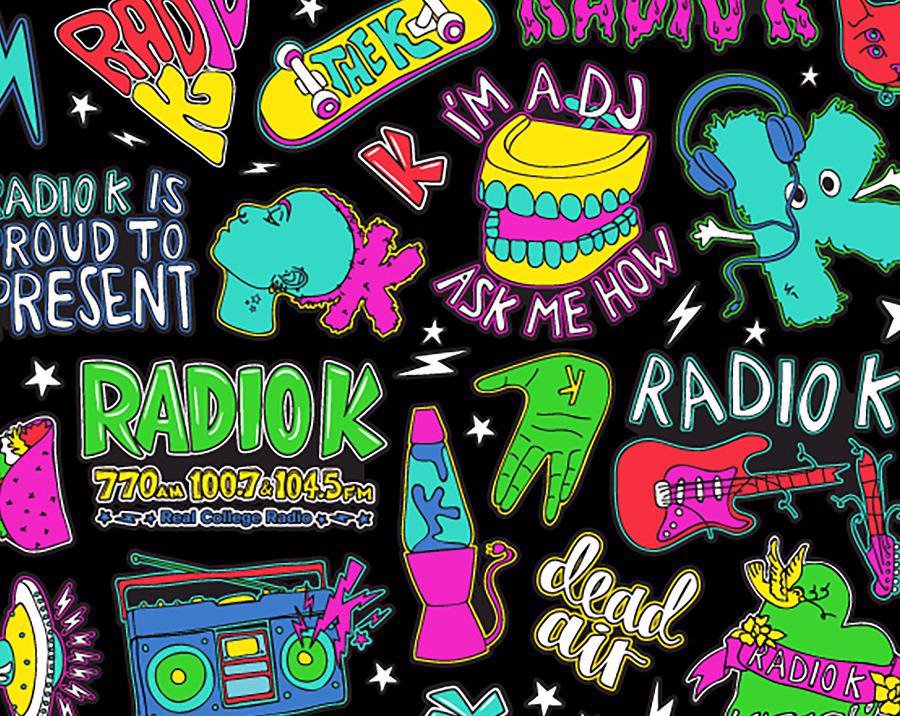 Writing for Radio K allows me almost complete creative freedom to explore my ideas with guidance from the Programming Adviser Sarah Lemancyzk.

The station's messaging demands that I write in multiple voices, spanning from Irreverent College Student to Sincere and Underappreciated, often treading a line on Righteous Taste Maker, but always remaining up-to-date on cultural happenings, pop culture phenomena in-music-and-out from any of the last 40 decades.
A Radio K Christmas Promo
Pre-Launch (:35s)
Sick of hearing sleigh bells right?
All decked out on the halls?
Radio K has something to keep you holly and jolly all winter long:
A Radio K Christmas.
Our wintery mixtape of 10 chestnut-roasting tunes by your favorite local artists.
Find it stuffed in your digital stocking on Christmas morning,
available to download at Radio K dot org.
Post- Launch (:35s)
'Twas the week after Christmas
and all through the K
were 10 holiday tunes for the DJs to play.
A wintery mixtape so fresh and delicious,
I knew it must be
A Radio K Christmas.
And you my dear listener can hear it today!
Download it for free at Radio K--
--dot org.
Read the full web promo here

"This year, our holiday cup runneth over with a veritable BEVY of Christmas tunes from the naughty and nice locals of Minneapolis. That's right, dear listeners, It's A Radio K Christmas: A Wintry Mixtape so fire, your chestnuts won't know what hit 'em."
Top 77 Albums Countdown Promo
A16a Top 77 Countdown - Tough Guy (:33s)
You're not gonna sneak in that last visit to the gym before you've gotta re-do those wimpy resolutions; why not spend the day with your favorite college radio station and OUR favorite albums from 2016? 
From 9 a.m. till 3 p.m., tune-in to Radio K's Top 77 Countdown so you can flex your sick music taste. Impress your friends. Musical gains, my dude. *flex grunt* 
Give to the Max Day Promo
A04d Give to the Max Day - Baklava Day (:14s)
Fun Fact: Today is national Baklava Day. But most importantly, Its Give to the Max Day. Donate at Radio K dot org so we don't have to celebrate national Dead Air Day.
Sponsored Shows Promo
A15 Liquid Music Series - (:18s)
Radio K is proud to partner with the St. Paul Chamber Orchestra to present the Liquid Music Series; pairing independent artists with critically-acclaimed composers for ground-breaking musical collaborations.
Information about upcoming Liquid events is available on Radio K's event calendar and at Liquid Music Series dot org.
Fall 2016 Pledge Drive Promo
A20h Fall 2016 Pledge - Rob Bass (:15s)
DJ Rob Base said it best:
"It takes two to make a thing go right"
You and Radio K
Donate now at Radio K dot org.
A20r Fall 2016 Pledge - Great Duos (:17s)
Simon and Garfunkel. Outkast. Tegan and Sara. The next great duo? You, the listener, and us, your favorite college radio station. Donate today at Radio K dot org.
Copywriting & Production Zach Simon
Liquid & Mixtape-Spot Production Jared Hemming
Mixtape Curation Ross Koeberl      Mixtape Cover Sarah Johnson
Voices (In Order of Appearance)
Jared Hemming
Zach Simon
Eliot Goedeken
David Ziemer
Ryan Gilman
Mikey Wambach